St. Louis Commercial Landscaping Maintenance
The perfect first impression, makes a lasting impression.
SFP Landscaping is the commercial landscaping company of choice in the St. Louis area, offering complete turnkey maintenance programs for all types of businesses including office buildings, athletic facilities, parks, multi-family residences and much more. Providing consistent top-quality landscape maintenance is why organizations and businesses throughout the St. Louis area turn to SFP and stay with SFP.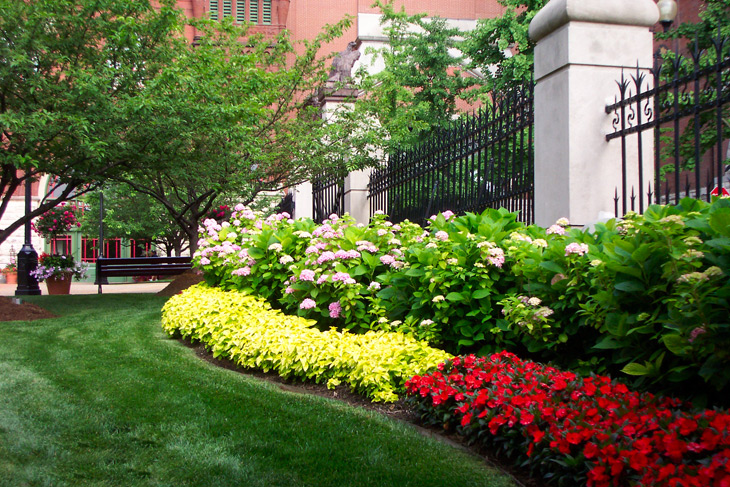 SFP works directly with you to build a custom, year-round maintenance plan to fully enhance the beauty of your property. We take personal care to ensure your landscaping needs are met precisely and timely. Whether you need weekly maintenance, seasonal maintenance or emergency service, SFP horticultural experts and maintenance crews work together to insure your landscape investment achieves the pinnacle of landscape beauty.
We take pride in the long-term relationships we maintain with our clients, property managers, and board members. Our family business is 2nd generation strong and together we provide more than 200 years of landscaping knowledge – all to your advantage:
Bed Maintenance & Annual Color
Many of our plans start with beautiful flowering tulip and daffodil bulbs in early spring, colorful annual flower beds for late spring into summer, flowering perennial beds for repeat color, fall mums or pansies to enhance the autumn landscape and back to planting bulbs for the following year.
Plant Stock Facility
Our plant stock facility helps us deliver your plants in mint condition. In between, we can add turf management on a weekly basis, evergreen, shrub and tree pruning and maintenance with weekly bed and weed control.
Turf and Ground Management
We provide knowledgeable care of turf – analysis, planning, mowing, trimming, fertilizing, pest control, aerating, over seeding, establishment, and renovation.
We take a proactive approach to landscape maintenance with highly customized programs so that your landscape is cared for properly. Working with SFP, you can rest assured that we always have your best interest in mind. We operate with a strict code of honesty, and will continue our dedicated service for your property to our best ability.
Do you need landscaping maintenance services for your home?  SFP also offers top-notch residential lawn care & maintenance.
Contact SFP Landscaping for a free and professional consultation, request an estimate online or call 314.544.4436 today.